I have jumped to Challege 4 because I really fancied doing this challenge.  Use yellow, grey and another colour of your choice.  I chose pink as I think this is a lovely combination.
This is a photo taken last Spring of dd aged 16.  It wasn't very long after this photo was taken that she had her haircut and styled, started at College and got braces on her teeth.  I wrote quite a bit of journaling on the hidden tag about my thoughts as she grows up into a beautiful young woman, both inside and out.  Here's a close up...
I lifted the idea of Shimelle's butterflies fluttering upwards from her Easter LO (see below).  The colours are a bit off in my photos (especially the pink crochet flower... it's not so reddish IRL)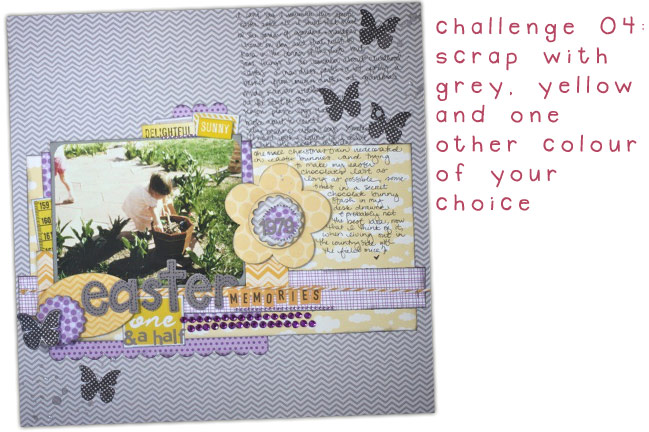 Husb had to work today so this was a good way to spend my Saturday.  I think I'm going to double back to the previous challlenges, depending on what's coming up next :)  Loving the scrapping weekend.