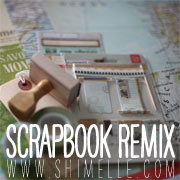 I am enjoying Shimelle's latest online class called Scrapbook Remix. What's it about?  "Scrapbook Remix is an online scrapbooking class that shares the secrets to mixing patterned papers of all kinds and then creating a range of pages with this combinations. We'll talk colour, pattern, scale, size, technique and more." Yay.
Here's a LO I made in response to Shimelle's challenge to make a boy's LO from option 3, prompt 5...
Back in 2010, Ds loved to get three of his mice all out to play at once.  We had a fourth mouse who was too delicate to play in a messy group and she had her own playtime.
Here's two close-ups...
I ordered the badge (flair) with the camera on it from the USA.  It was from an etsy shop called 'A Flair For Buttons' and by 'buttons' she means 'badges' without the pin in the back :)
On the photo above you can see a pale blue piece of cardstock that I ran through my Cuttlebug in a 'Tim Holtz' embossing folder called 'Bubble Wrapping'.  Most of it got covered up but it added a nice bit of texture.  I love the Hambly  Camera screenprint too. 
Any scrappers out there interested in joining this class?  It's not too late and the materials stay available to you to go back and revisit whenever you want.  Today I watched the prompt 7 video and it was brilliant.  Lovin to learn and improve my LO's.